This stash busting method isn't for the faint of heart. If your stash is full of yarns you love and can't wait to use, then this may not be the project for you. But if you're anything like me, you've got some yarns that you don't even know how they got in there and aren't turning into anything pretty any time soon. They're not paying their rent and they've got to go to make room for Fall yarn!
In the past, I made a little arm-knit scrap yarn rug (and sold it in my Etsy shop) using this method for making chunky yarn out of lighter weight yarns.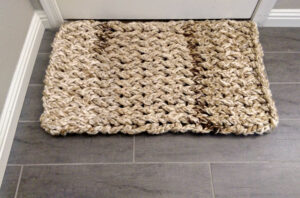 It took a while to rack up that much unwanted yarn again but two years later, here's the stash I was contending with.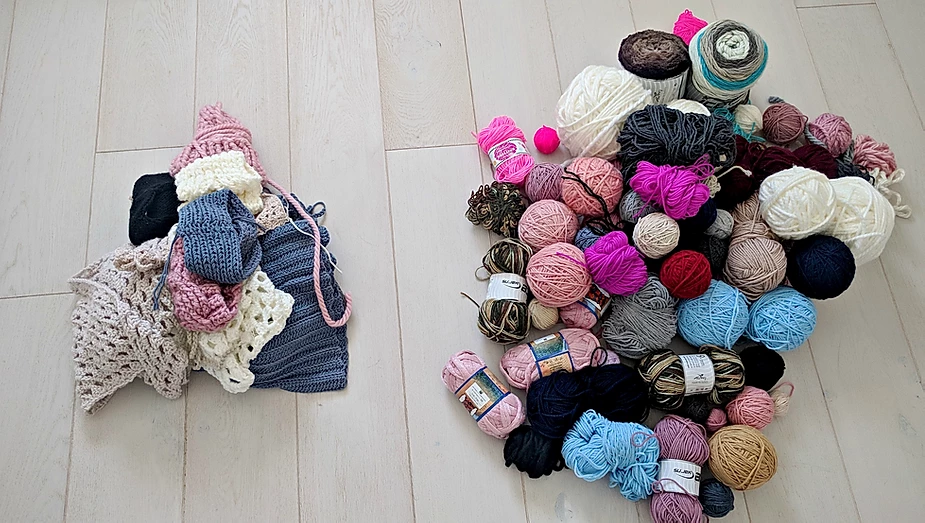 Not only did I have a heap of unused yarn but also a good pile of abandoned projects in need of unraveling. I'm a huge proponent of unraveling by the way and LOVE my yarn ball winder.
Once I got everybody unraveled, I sorted by color to get a better understanding of what I was working with.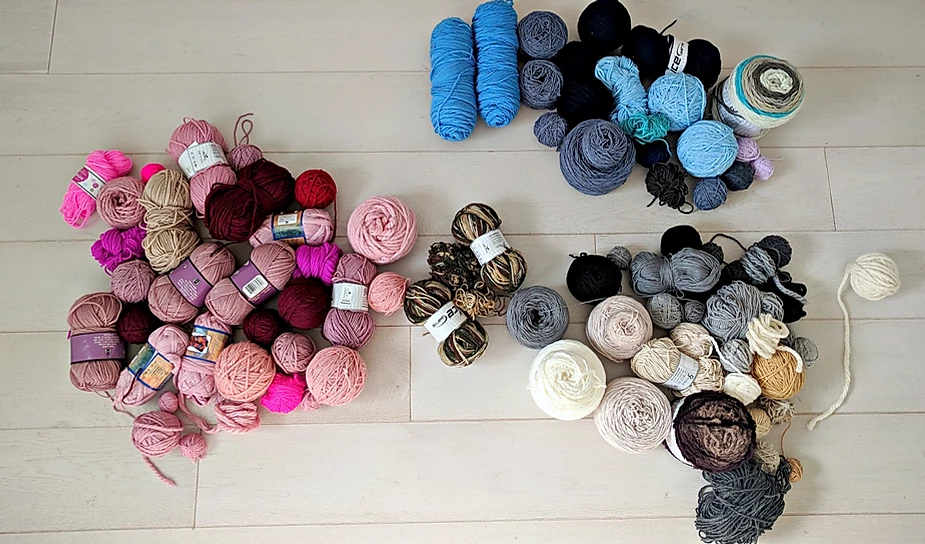 I just did a quick sectioning by warm tones, cool tones and neutrals and I actually had a pretty even amount of each. I decided to pair the pinks with the grays and the blues with the white/cream/black part of the neutral pile. There were a couple outliers, some gold and camo and I just threw them in with the blue pile.
If you're not sure how to plan out your color scheme with the yarns in your stash, check out the joining method below and it might come to you once you see how the yarns all come together. In a previous post, you can find here, I gave a simplified tutorial about this method of making your own chunky yarns by chaining together thinner yarn. But below, you'll see how to adapt it specifically for stash busting.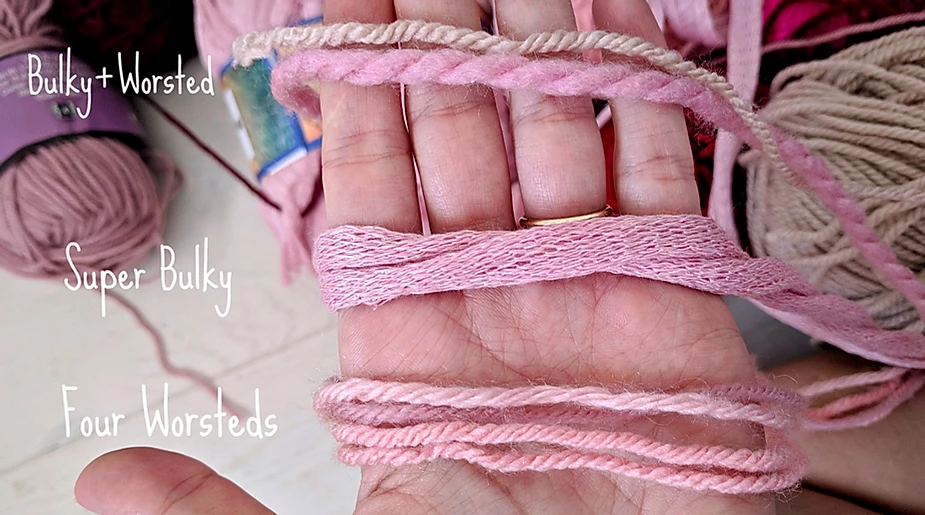 I've found that a good arm-knitting thickness comes from 4 "strands" all chained together. Above, you'll see what I consider a strand. Either one strand of super bulky, 4 strands of worsted weight yarn or a bulky and a worsted (two DK or fingering weight yarns can count as one worsted). For the first ball, I decided to do 3 "strands" of pink to one strand of gray based on the amount I had of each.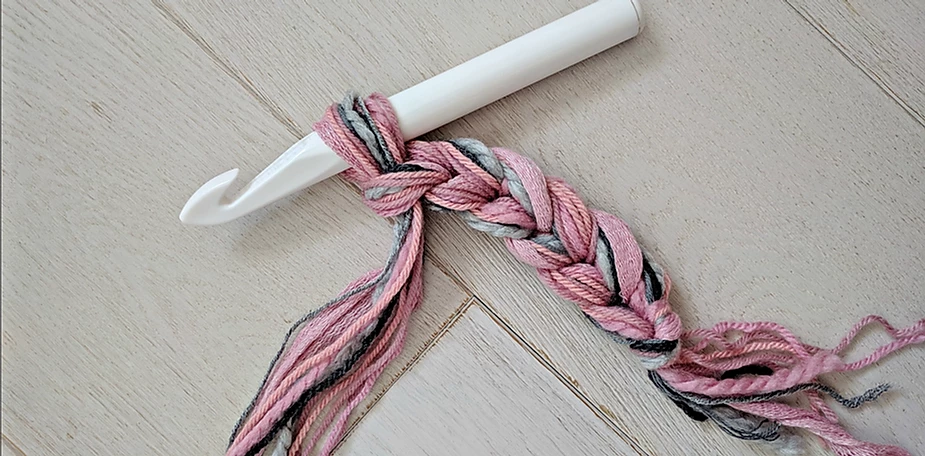 I grabbed all four "strands" and a 15mm crochet hook and started chaining. You can also do this part with your fingers by pulling a loop through a slip knot loop and pulling up loops continuously. If one bulky or one worsted yarn ran out, I tried to attach a new yarn of the same thickness. But sometimes I had to tie two worsted to a bulky.
It's not an exact science but I just aim for maintaining the thickness of your chain. I should also note that I saved cutting my yarn ends until after my projects were done but feel free to trim them as you go.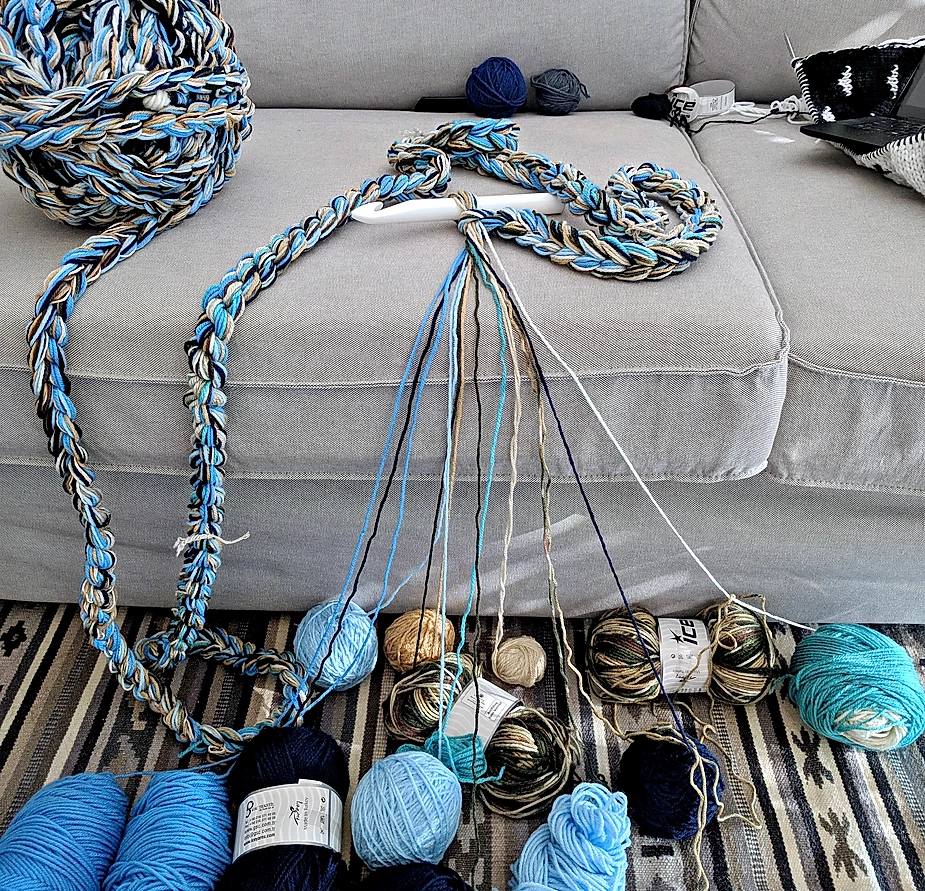 Here's a pic of my setup for the blue yarn. Now, I'd be lying if I told you this didn't result in some tangling but as long as my skeins were well wound and I didn't twist things up too much, it stayed manageable.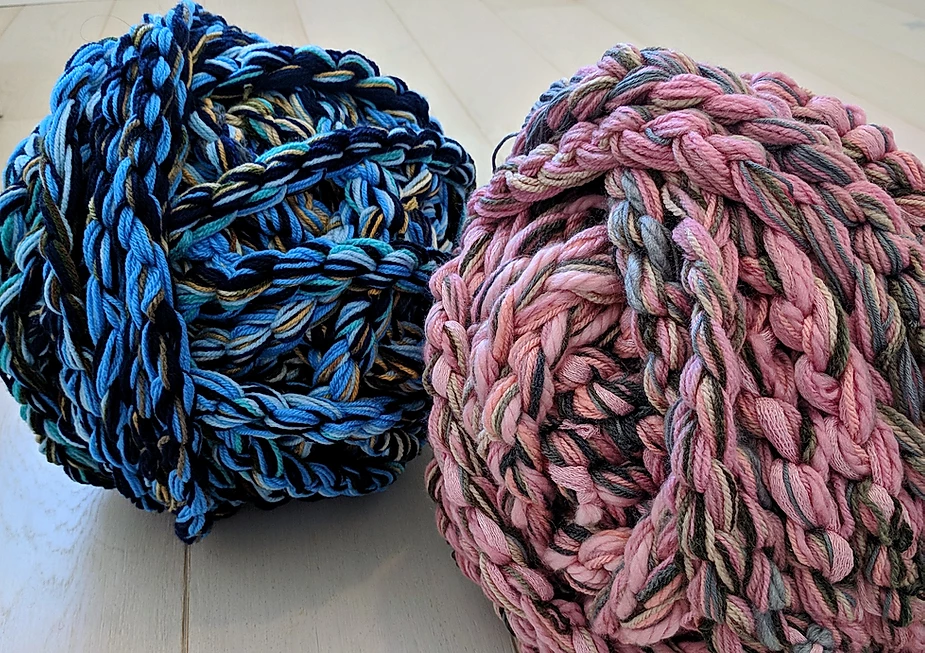 Here's the result! My two giant, rope-like, yarn ball babies just waiting to be arm-knit into something.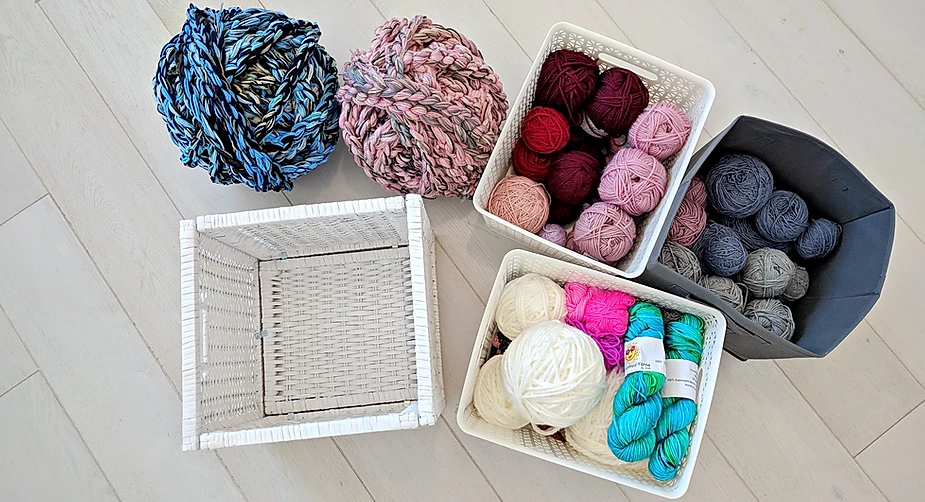 And just get a look at how tidy my stash is now. I even have a spare basket for MORE YARN!
All that was left was to arm knit away. For the pink ball I went with a tried and true kitchen mat by casting on 7 stitches and knitting until I ran out of yarn, about 14 rows.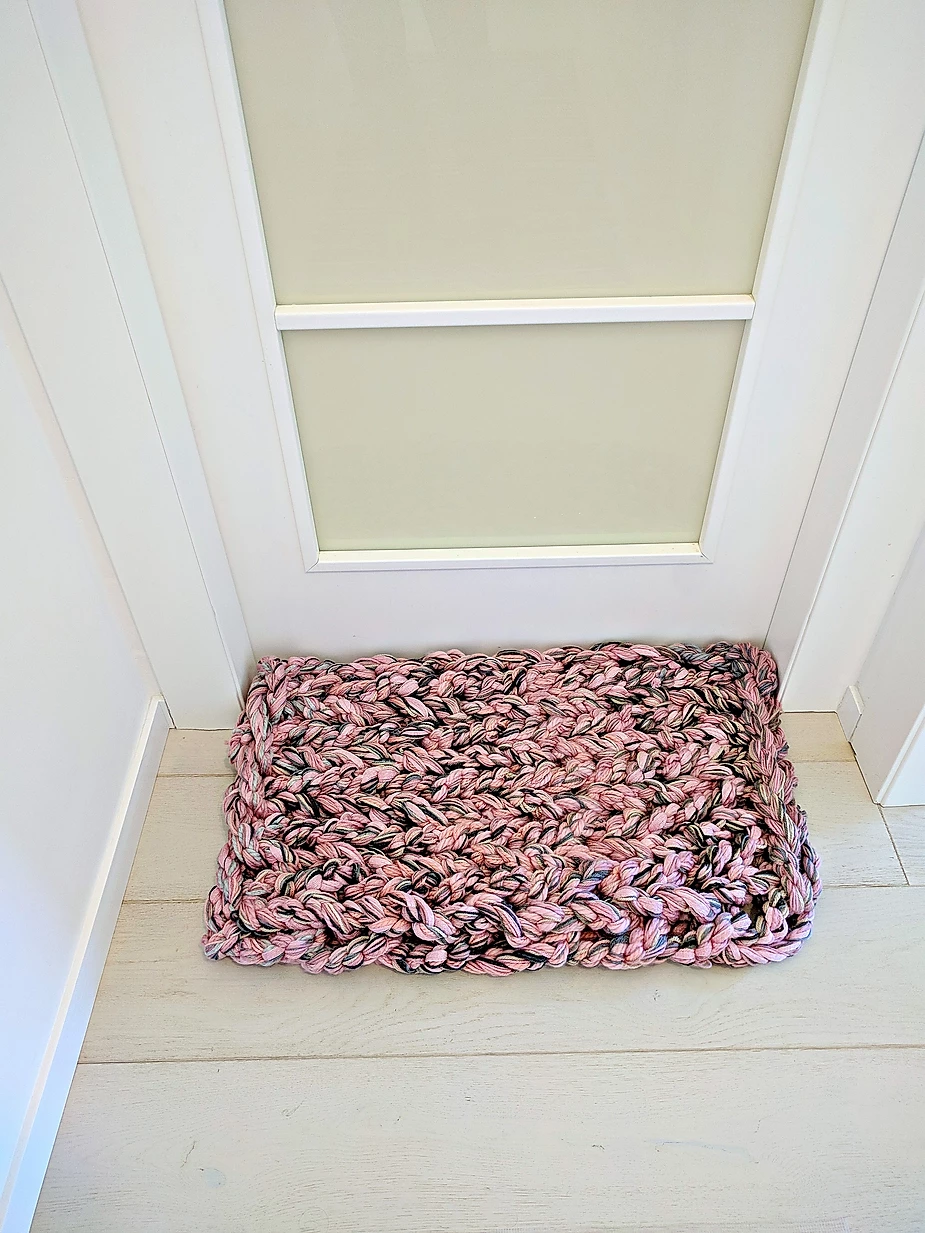 This method also makes an excellent dog bed/pet mat. It's thick and cushy but definitely too heavy to be a blanket.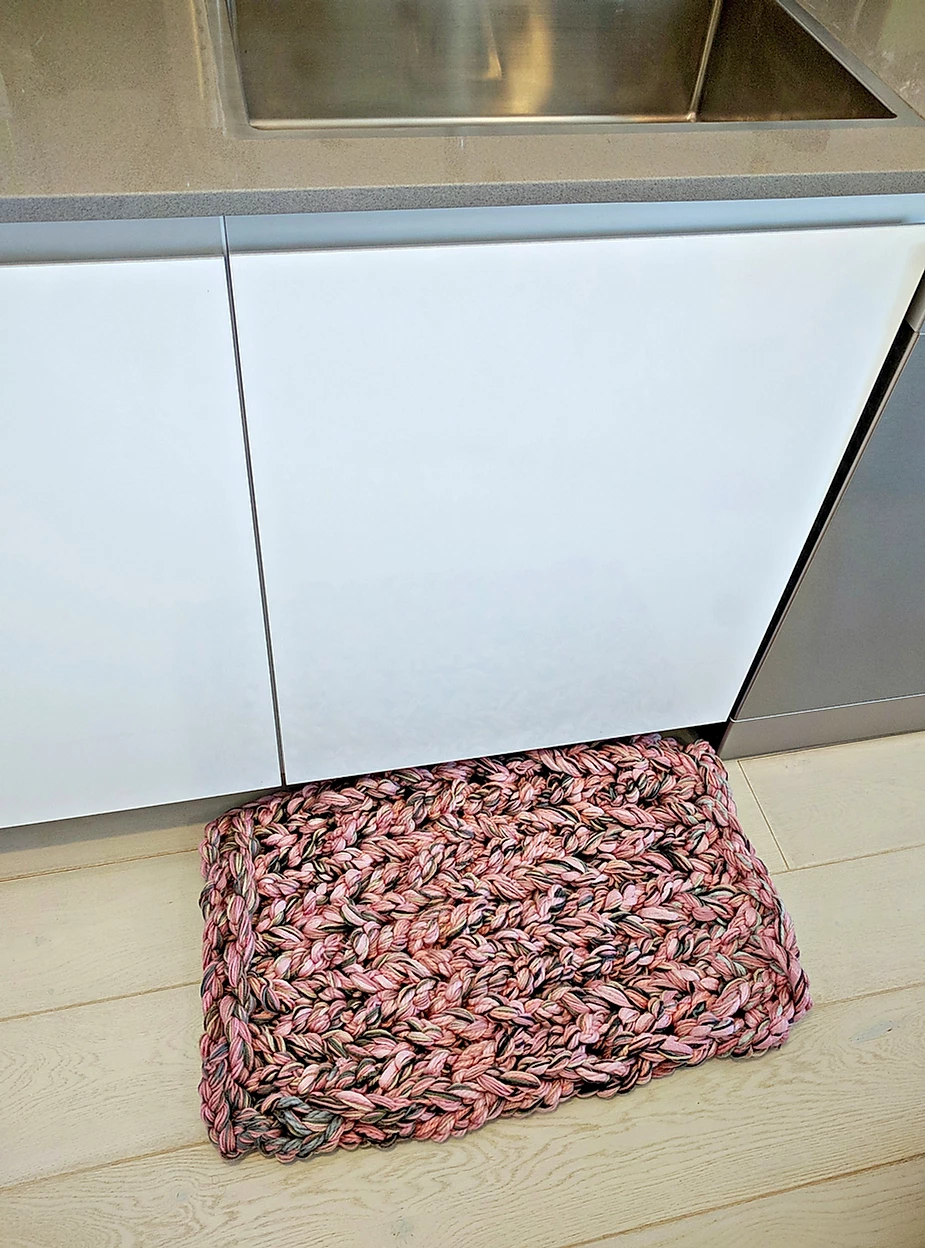 Then, when it came to the blue yarn ball, I was getting major nautical vibes. I wanted to do something for my patio. First I tried a blanket but the length just wasn't there. Then, I split the yarn up, casting on 8 stitches and knitting 9-12 rows to make two seat back cushions. And I am obsessed! Plus my blue yarn ball was mostly made of fibers that I think could hold up to the elements (acrylic, nylon, cotton) but I think I'll take them inside if it really starts to rain.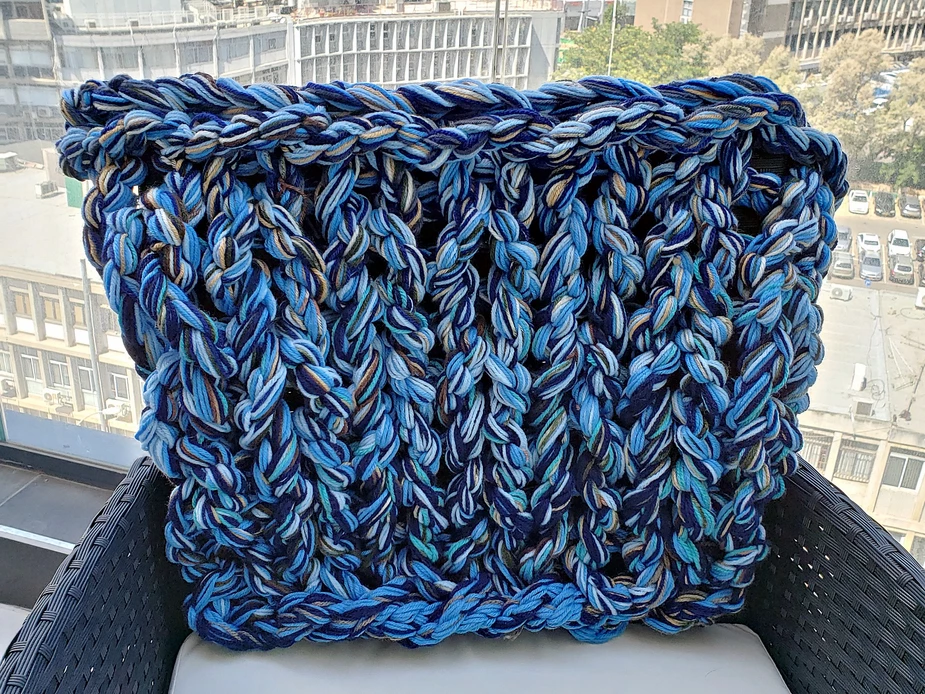 You can really knit up anything depending on how much chunky yarn your stash yields. I think a blanket would even be possible if your stash yarns were light and fluffy and you chained with three "strands" instead of four. I hope you get inspired my this little tutorial and enjoy clearing out stash in a flash.