Whether you're diving into a new pattern or writing your own, it's helpful to have some of the most common crocheting abbreviations handy! Instead of searching each time for "what does dc2tog stand for?" or "is single crochet US terms or UK terms?" you are welcome to download this free crochet abbreviations chart that's as pretty as it is useful (if I do say so myself).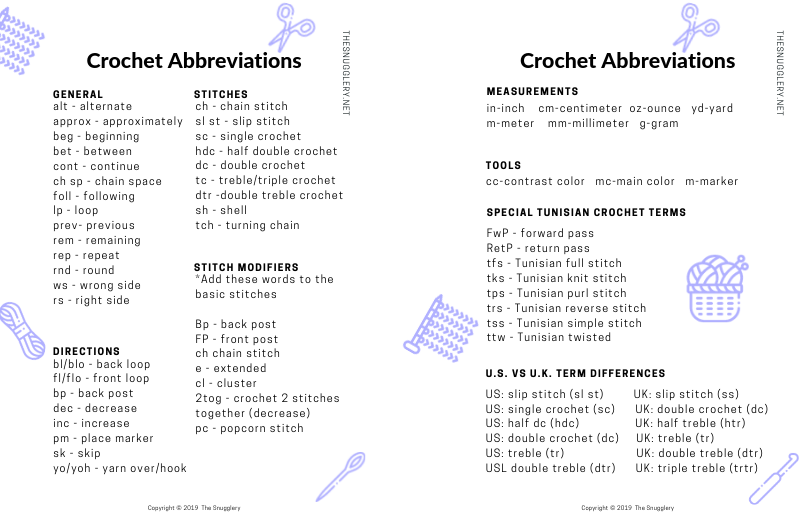 Click on the image of the chart above to download a high quality, printable version for yourself! It'll make your next project or pattern so much easier to start when you have all the most common crocheting abbreviations in one place!
The crochet abbreviations chart includes:
The General terms
alt – alternate
approx – approximately
beg – beginning
bet – between
cont – continue
ch sp – chain space
foll – following
lp – loop
prev- previous
rem – remaining
rep – repeat
rnd – round
ws – wrong side
rs – right side
The Directions
bl/blo – back loop
fl/flo – front loop
bp – back post
dec – decrease
inc – increase
pm – place marker
sk – skip
yo/yoh – yarn over/hook
The Stitches
ch – chain stitch
sl st – slip stitch
sc – single crochet
hdc – half double crochet
dc – double crochet
tc – treble/triple crochet
dtr -double treble crochet
sh – shell
tch – turning chain
The Stitch Modifiers
Bp – back post
FP – front post
ch chain stitch
e – extended
cl – cluster
2tog – crochet 2 stitches together (decrease)
pc – popcorn stitch
The Measurements
" or in – inch
cm – centimeter
g – gram
m – meter
mm – millimeter
oz -ounce
yd – yard
The Tools
cc-contrast color mc-main color m-marker
The special Tunisian Crochet Terms
FwP – forward pass
RetP – return pass
tfs – Tunisian full stitch
tks – Tunisian knit stitch
tps – Tunisian purl stitch
trs – Tunisian reverse stitch
tss – Tunisian simple stitch
ttw – Tunisian twisted
And a comparison of the most common US/UK term differences
If you've found this chart helpful, feel free to share it on Pinterest or Facebook!