So you've got the cable knitting bug and now you can't stop! I've been there. And these chunky cable knit fingerless gloves were some of the first cable knitting patterns I tried as a newbie. What I love most about these wrist warmers is how quick they are to work up! The super chunky yarn means that you'll have a beautiful set of substantial fingerless gloves in just a few row repeats!
If you're looking for a quick and easy knit gift ideas, this pattern is perfect for you too. These wrist warmers make great stocking stuffers and will easily fit almost everyone.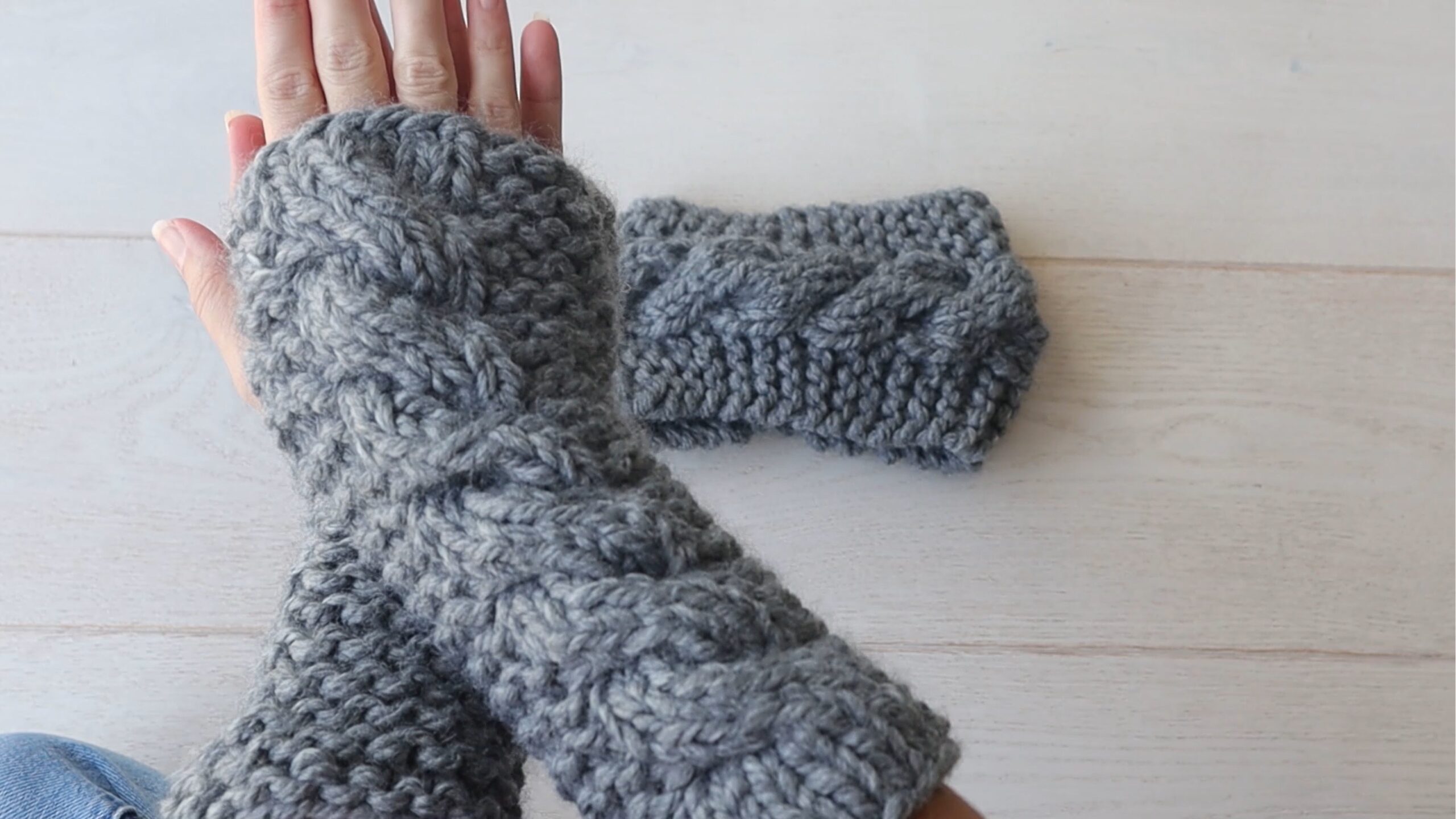 Hard to believe that these wrist warmers are beginner friendly? It's actually a simple rectangle! All the shaping is done with just the natural character of the cable knit fabric and how we'll leave a thumb hole during the seaming process.
Making this pattern even more accessible to beginners is the video tutorial! Check it out here or on my YouTube channel to see exactly how the cast on, cable, bind off and seaming looks!
Cable Knit Fingerless Gloves Pattern
As I alluded to above, this pattern is knit flat and seamed. The stitch number you cast on equals the finished wrist circumference (about 7″ for this small adult size) and the number of rows you work will determine the length of the gloves (from knuckles to about mid-forearm).
You'll find the free pattern below for the small adult size and If you're interested in an ad-free printable version of the pattern including two more sizes and the matching ear warmer, that PDF is available for purchase in my premium pattern shop.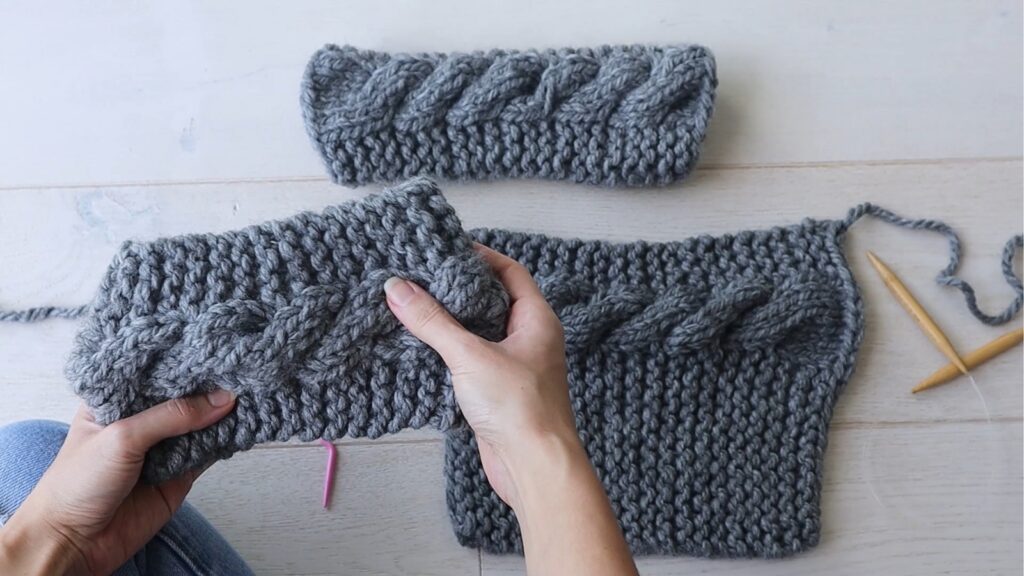 Materials
About 90 yards (85 m) of a super bulky weight yarn like Lionbrand's Wool Ease Thick & Quick
A set of 9mm US 13 knitting needles. You can use straight or circular needles.
A tapestry needle and a cable needle (or anything to hold your cable stitches).
Gauge & Sizing
The gauge on the yarn label of a suitable yarn will likely be about 10 sts x 14 rows in 4″ (10cm) of stockinette.
The free pattern below is sized to fit an average small adult wrist or about a circumference of 7″ (18cm). You can alter the size by adding or subtracting knit stitches to either end of the pattern.
Abbreviations
k=knit
p=purl
c3f=cable 3 front*
*hold 3 stitches on a cable needle in front of your work, knit 3 stitches then knit the 3 stitches off of the cable needle
ws=wrong side
rs=right side
sts=stitches
Pattern
Right glove
Cast on 22 sts
Row 1 (ws): k12, p6, k4
Row 2 (rs): k all sts
Row 3: K12, p6, k4
Row 4: k all sts
Row 5: k12, p6, k4
Row 6: k4, ,c3f, k12
Repeat rows 1-6 for a total of 41 rows, or until your piece measures 9″ (23cm). Bind off after a "row 5."
Left glove
Cast on 22 sts
Row 1 (ws): k4, p6, k12
Row 2 (rs): k all sts
Row 3: k4, p6, k12
Row 4: k all sts
Row 5: k4, p6, k12
Row 6: k12, ,c3f, k4
Repeat rows 1-6 for a total of 41 rows, or until your piece measures 9″ (23cm). Bind off after a "row 5."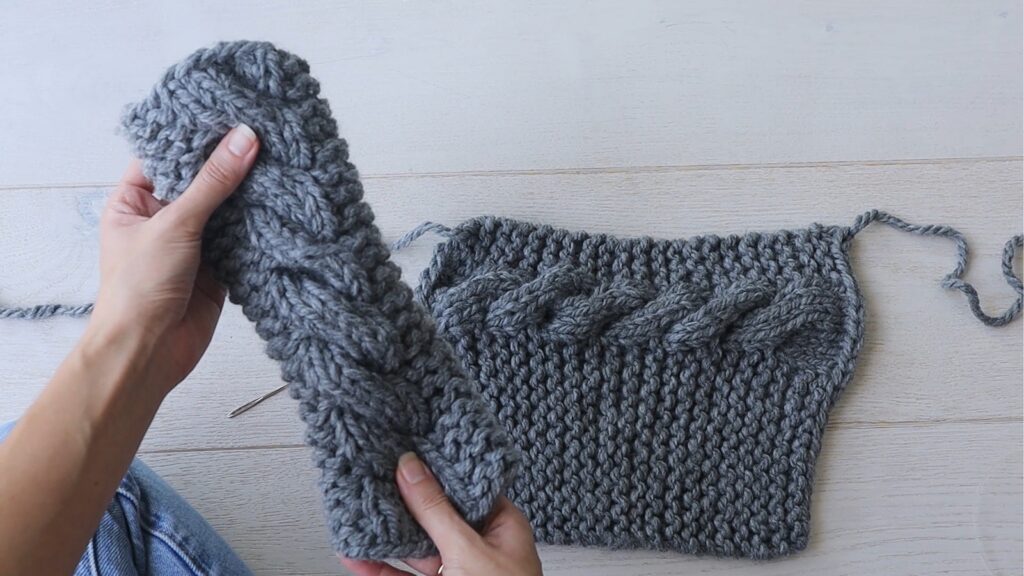 Seaming
Same for both gloves
Starting at the bind off edge, seam the vertical edges of your work together using the mattress stitch. About 3.5″ (9cm) from the cast on edge, leave about a 2″ (5cm) unseamed. Approximately 5 garter ridges. Then, seam the remaining 1.5″ (about 4 garter ridges).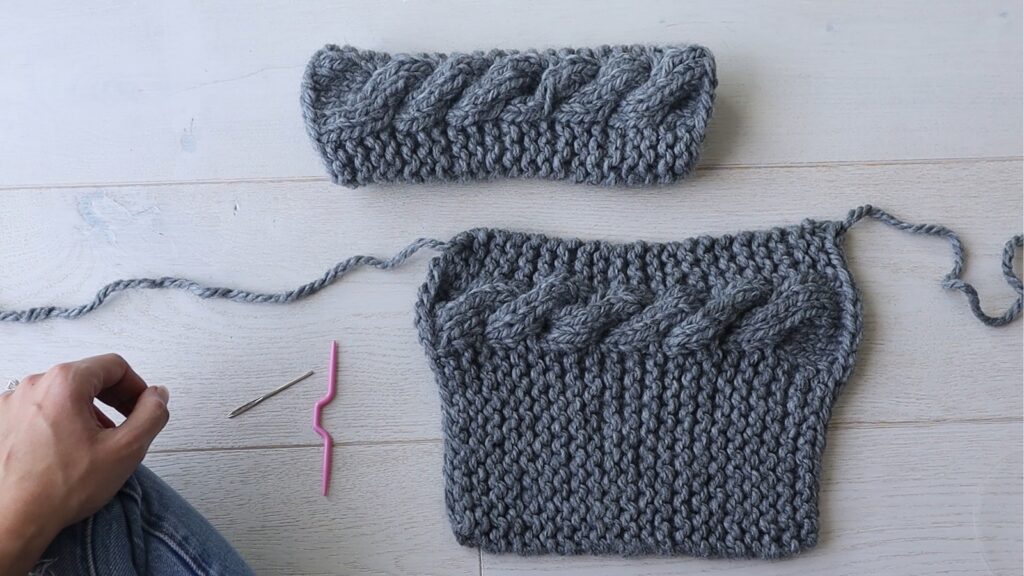 There you have it!
I hope you enjoyed this cable knit fingerless gloves pattern and have fun working up loads of these to give, gift, or sell this winter! Make sure to check out my post for the matching cable knit ear warmer and don't forget to tag me wherever you share your projects online, 'cuz I'd love to see them!