It can be hard to know which are the best yarns for arm knitting, especially for beginners! I started arm-knitting over 4 years ago and have made my share of arm-knit blankets (63 to be exact!) and countless scarves. Needless to say, I've tried arm-knitting with almost every super bulky yarn under the sun and want to help others with my endless quest for the best arm-knitting yarns! Here you'll find my top arm knitting yarn suggestions as well as all the helpful tips I can think of to help anyone get started.
Also, I finally have my very own arm knitting video tutorial! Check it out if you haven't already
Before we get into the arm knitting yarn list…
In these crazy times, lots of supply chains have been disrupted and the options for arm knitting yarn are constantly changing! I'm trying to keep a running list available of all the best arm knitting yarn that you can buy and get shipped to you right now. You can click here to go directly to my daily updated list down below. This article still contains great info about what to look for in an arm knitting yarn so please feel free to continue on reading but don't be alarmed if some of the links lead to yarns that are out of stock. I'll try to keep this short hand list updated throughout the winter season.
Now…on to the best yarns for arm knitting!
My personal favorite arm knitting yarn. A wool/acrylic blend roving yarn that's perfect for soft blankets. This yarn is unique in that it is both very bulky while being light and fluffy. Arm knitting stitches are large and long on the knit side, highlighting the texture of the yarn you're using. Since it is a roving and not plied (several strands wrapped around each other) It avoids the "Fishing net" look some arm knitting projects can get with plied yarns and the "cobbles" really fill the gaps in stitches. The unique linked constructing of the roving gives these yarns a luxurious, pillowy feel and a rustic, artisan look. I knit with this yarn two strands at a time, casting on 25 stitches and using 8 skeins total for 35″x50″ throw blankets. You can find this yarn at many craft retailers like Michaels and online at Yarnspirations.com
Perhaps the best beginner arm-knitting yarn! This yarn is so thick, it can make beautiful arm knitting projects knitting with one strand at a time.
The plied, slightly shiny yarn is super easy to work with. It also makes really soft and comfortable scarves and cowls with only one or two skeins. It can be a little tricky to join a new ball of yarn without having a very visible knot so it's best to hide those in the curled edges of the work when possible. This yarn is also widely available at craft retailers and online at Yarnspirations.com, Wool Warehouse, Amazon and Michaels.
This yarn is also great for beginners but the wool blend means it will have a softer, loftier feel than Bernat Mega. It is also a touch less bulky so it's best to work double stranded with this yarn when arm knitting. It's very similar to the extremely popular Lion Brand Wool Ease Thick & Quick and often interchangeable in patterns but it is just a touch bulkier so I prefer it for arm knitting.
Update! I found an amazingly cheap dupe for this yarn! It's called Alpine XL from Ice Yarns. Each ball is only $4.99 but they are 114 yards long! That makes them over twice as long as Red Heart Grande and we all know how important that yardage is when it comes to arm knitting.
Red Heart Grande in the colorway Aran is the yarn I used in my arm knit mermaid tail blanket pattern available over at my paid patterns shop
Just like Bernat Mega, this is a plied (twisted) yarn which some find to have a rope-like effect when arm knitted and it may not fluff up enough to fill in those loose arm knit stitches as well as some of non plied yarns on the list. That being said, this is an easy to find, not too pricey, great beginner arm knitting yarn. You can't go wrong with Red Heart Grande.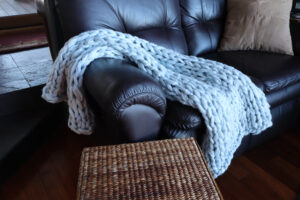 It wouldn't be an arm-knitting article without talking about Couture Jazz. The yarn that launched millions of arm knitting projects thanks to viral tutorials from blogs like SimplyMaggie. If you want a soft, thick yarn that will fill those giant arm-knitting stitches, this is the yarn for you.
While it can be knitted with a single strand, the skeins tend to be very short on yardage so you will find yourself joining on new skeins multiple times throughout projects. The mesh quality of the yarn allows you to sew yarn ends together with a needle and thread for almost invisible joins. That method, while being seamless and polished, can be pretty time consuming. Also, the most popular colors of this yarn are often out of stock due to it's popularity. It is available online at Lovecrafts.com, Annie's, and premier yarns own website.
You can see the deliciously chunky blankets Maggie is able to arm-knit up in under 45 minutes! Couture Jazz tackles some of the pitfalls of arm knitting (loose stitches, stretchy weave) with ease.
We can credit some of these specialty brands with the viral, Pinterest-y images that launched the "extreme knitting" craze. Brands like Loopy Mango, Tjockt and Knit Collage have been slaying the niche knitting game for years now. They continue to expand their product lines beyond the gigantic luxury wools that made them famous. While their $$$ price tag isn't for everyone, some might enjoy their full service approach to arm knitting with resources to help you produce a truly heirloom quality item yourself for a fraction of what the retail price would be for a ready-made blanket.
Yarns for Arm Knitting – Honorable Mentions:
There are a couple extra options worth mentioning. One is Bernat Blanket Big! Stitch n' Win (a great dupe being Hobby Lobby's Eternal Bliss Yarn).This yarn can be great for arm knitting but didn't make the list due to it being hard to find (out of stock/seasonal/impossible to google), no stretch and tendency to unravel when cut. If you can get your hands on some and make sure to tie (or even glue!) your ends together, it makes for some of the fluffiest arm knit blankets out there! Also, Michael's is consistently adding new lines of arm-knitting worthy yarns from their own brand. They usually have generic names like "Biggie" or "Huge" and selection varies by store.
Bonus tips!
There really is no wrong way to select a yarn for arm knitting. I've seen some awesome projects made with even fine yarns (beachy sarong anyone?) but my general tips are to look for the bulkiest yarns you can find… Think less than 60 yards per 100 grams. And, yarns with some sort of added textural quality will help fill in gaps created by the loose weave of arm knitting. If you're shopping online, check to see if you can filter your search by yarn weight category "Jumbo" (weight category 7) which will be one larger than "super bulky." Any yarn in the Jumbo category is likely to be perfect for arm knitting.
I hope you've found these tips and yarn suggestions helpful! If you haven't already watched my beginning arm knitting tutorial, please do! Now go forth and knit big squishy things for your loved ones!